Comic Book Resources has released the cover for the first of the Battlestar Galactica comics!
Drawn by Nigel Raynor, future covers will be drawn up by a talented team of artists: Steve Mc Niven and Michael Turner, both of whom have worked for the upcoming Civil War arc by Marvel, as well as a couple others. Interior art will be released next week.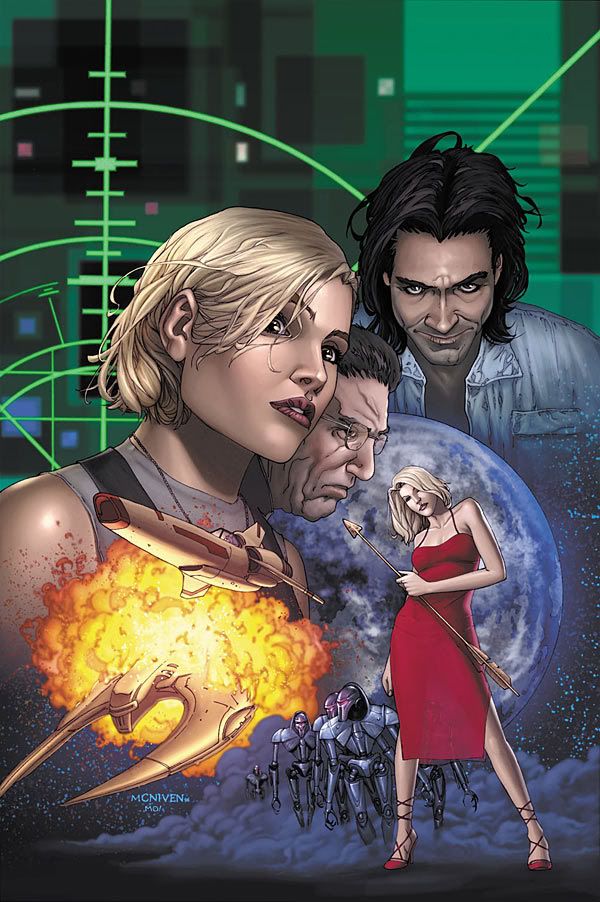 Runnemede, NJ, March 24, 2005 - Dynamite Entertainment announced today that artist Nigel Raynor will be joining writer Greg Pak (SOLD OUT Planet Hulk AND Phoenix Endsong) on the all-new Battlestar Galactica comic book series, a license of Universal Studios Consumer Products Group, as well as cover artists Steve Mc Niven (Civil War, New Avengers) and Michael Turner (Wolverine: Origin and Civil War cover artist), with more to be announced!
"After an exhaustive search for the right artist to work alongside Greg, we're please to announce that Nigel Raynor is the newest member of Dynamite's Galactica Crew," explained Dynamite Entertainment Spokesperson J. Allen. "Nigel's a relatively new name to comics, but fans will get a taste of his exceptional art, and Pak's awesome script, in the introductory priced Battlestar Galactica #0 planned for release in May. And remember fans, this issue will be at the incredible introductory price of twenty-five cents (that's right, just a slim quarter!) featuring a photo cover of Six and a brand new cover by Steve (Civil War, New Avengers) McNiven!"
The aforementioned issue #0 of Battlestar Galactica #0 is currently available for pre-order in the pages of the upcoming Previews Magazine. Look for interior of Raynor's interior art to be released next week.
And Comic Shop Retailers are already excited about Battlestar Galactica's huge launch by Dynamite Entertainment!
Full Article