Matthew Bennett, known to Battlestar Galactica fans as Aaron Doral, will be returning to Stargate SG-1 to reprise his role of Jarrod Kane, first seen in episode 805, Icon. In Icon, his character was a military leader on a planet that was torn apart by war after SG-1 made contact with the planet. According to Gateworld.net, Bennett will be reprising his role in a followup episode in Season 9. This is what Gateworld has to say about the episode:
Beware of minor spoilers! Here's what the site is reporting:

Daniel is imprisoned on a planet. The
Prometheus
engages in a firefight with a ship from that planet. The leaders from that planet seem to be influenced by the
Ori
.
Based on the fact that the episode is a follow-up to "Icon," it is likely that the planet in question is the home of the Rand Protectorate, the civilization Stargate Command promised to help rebuild following the suppression of a coup d'etat and the death of Soren, a fanatical rebel leader who Daniel fears may have been made a martyr to his cause.Actor
Matthew Bennett
will reprise his role of Jared Kane, an officer of the Rand Protectorate, in the episode, according to his official
Web site
.
In Greek mythology, "Ethon" was the eagle that gnawed the liver of Prometheus -- the name given to Earth's interstellar battle cruiser on Stargate, of course. The episode's title may refer to the ship with which the Prometheus does battle.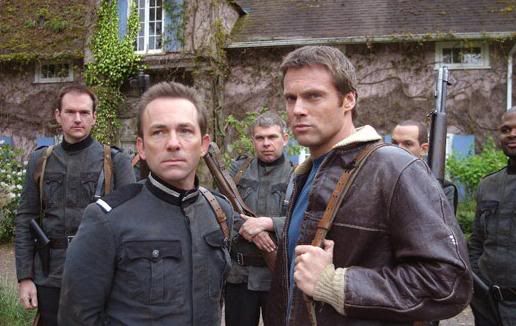 Jarrod Kane and Daniel Jackson (When are we getting Michael Shanks on BSG?)